The lips you want. Silkier, smoother, natural-looking lips.
January Special
Purchase 2 Filler Syringes and Receive $75 OFF
*1.0ml Syringes only. Can mix and match. Increase quantity to 2. Add to cart and discount will apply
This service is available at the following locations: McKinney, Allen, Mesquite, Forney, Anna, & Greenville. Consultation required prior to receiving treatment.
The lips you want. Silkier, smoother, natural-looking lips.
Finally, a filler that can help you achieve your ideal smile. Restylane® Silk is the first FDA-approved product specifically designed for lip enhancement and the smoothing of wrinkles around the mouth in patients 21 years of age and older.
The lips and the lines around the mouth, like other areas of the face, show signs of aging as you get older. This often results in lip thinning, lost shape and an increase in vertical lines above the lip. Restylane Silk is designed specifically to provide natural-looking results in these particular areas by using smaller, smoother particles than those used in other Restylane® products.
Everyone's facial structure is different — and so is everyone's ideal lip shape and size. Silk is designed to provide precise lip shaping and line control, resulting in silkier, smoother lips and natural-looking results. Find your ideal lip shape and talk with a specialist about how Restylane Silk can help you achieve the look you want.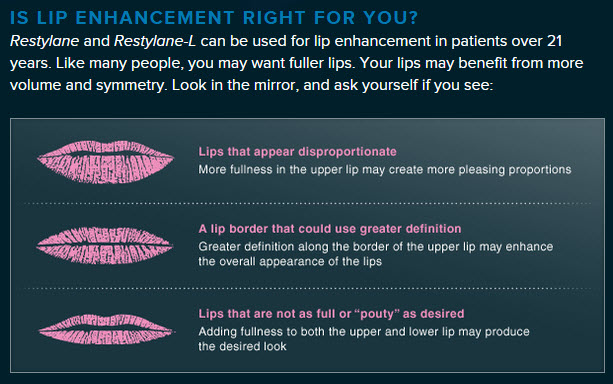 Earn 1 point for writing a review for this product
We found other products you might like!